When we started Andromeda back in 2015 we knew from the beginnining that we wanted a remote-first culture. At that point I had a mix of experiences working in person, while traveling, and from home, and had a decent grasp of what that would mean for us. Among other things I had a lot of experience working on distributed teams - teams that existed in multiple locations, even if each person was technically in an office. Many things we got right, but we also had a lot to learn about operating a fully remote company. Today as I write this our team is distributed across 12 time zones with all the challenges that implies.
Welcome to the first article in a new series on Remote Work. I've been speaking at conferences about remote work and leading remote teams for a few years, so this is my attempt to document all that content and also expand upon it. Globally there has been a lot of activity on the remote work front, in large part due to the Covid pandemic. There's a long list of topics on the agenda, but I also welcome your questions - please feel free to reach out if you have topics of interest or questions about how we've made remote work successful.
One of the big things we've learned is the importance of celebrating wins. When you have a small team that all get together in-person in the office, personal wins are shared as a natural part of office chit-chat. It's also pretty easy to take the team out to lunch after a big deploy, or to do something small like bringing in donuts or sending everyone home early. When you're all remote, it turns out these little things aren't so natural and/or they become a much bigger thing to pull off. You have to have a plan and be extremely intentional.
Routine Celebrations
I hate to make it sound quite so blasé, but some celebrations are much smaller than others and some wins can happen again and again. For example, "we got a thank you letter from the client", "the project is ahead of schedule", or even "my son's softball team won their game". It's still extremely important to acknowledge these and share them with the team, and to make a habit out of doing so.
One of the big things we started doing a few years ago is to acknowledge wins as part of our weekly team standup. The routine is "wins, blockers, goals for the week". By starting each report with wins we have trained ourselves to pay attention to the wins and remember to share them with the team. We've also built a culture of celebrating together and sharing what's important to us.
When I get good news that impacts one or more team members, I share that publicly and immediately (typically directly to the relevant Slack channel - you may use Teams, Discord, or something else) and then share again in our standup meeting. This can be winning a new contract, getting positive feedback from a client, or receiving a recognition.
Of course we can still adapt some traditional rewards such as sending gift cards or gift baskets, and providing some bonus time off.
Another example of a recurring type of celebration is annual anniversaries. Not only do we recognize these anniversaries publicly, but we've designed mission patches in the space theme of our company brand to commemorate the achievement.
![Mission Patches for Andromeda Galactic Solutions. Annual patches are round and show from 1 to 5 stars to represent the number of years with the company. There's one large star with the number in it, then smaller star trailing behind it. There are also two patches shaped like a shield. Each has a shooting star with a product logo in the middle, and the stars tail makes it look like it's shooting up from beneath as a form of "launch" effect.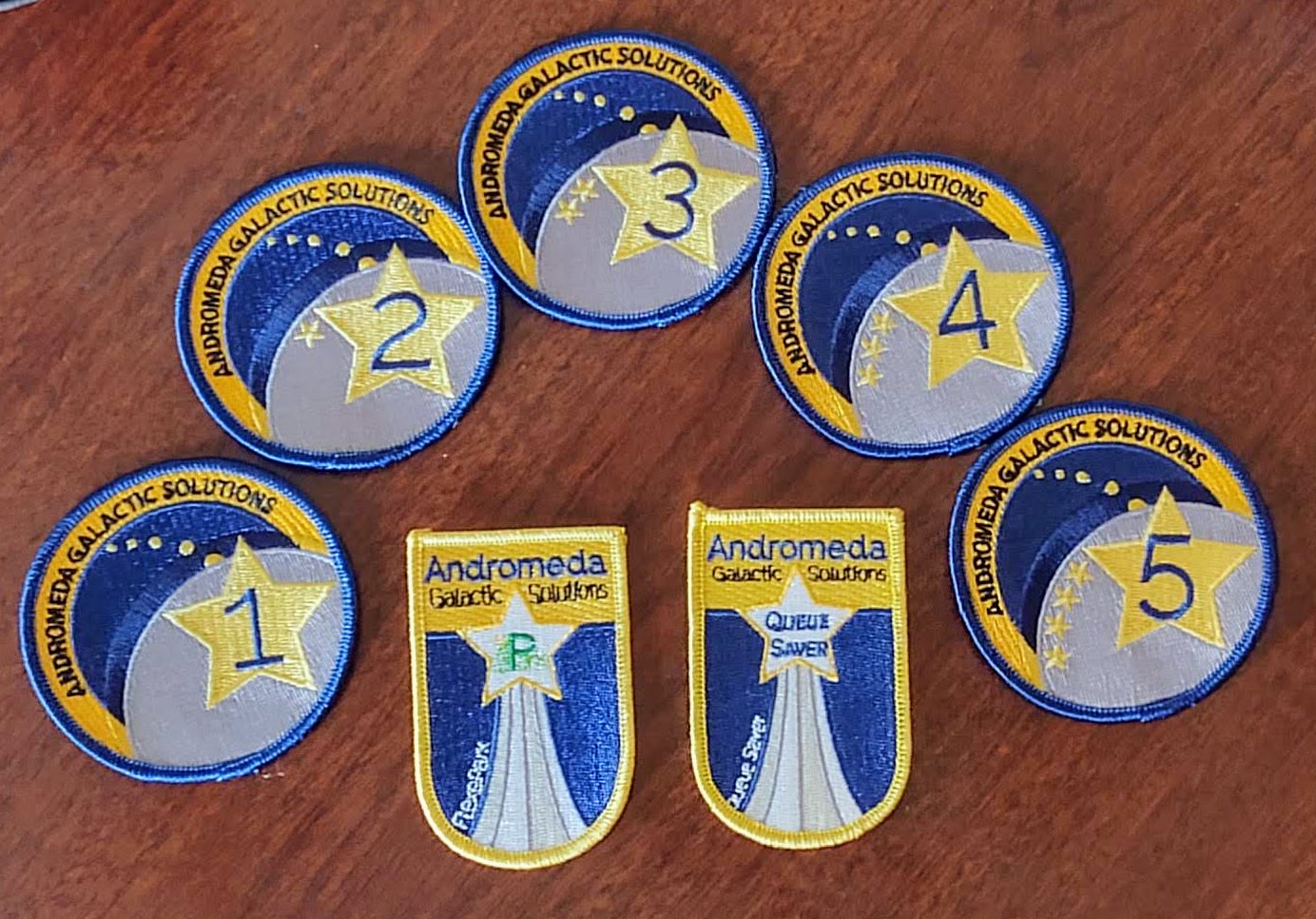 Bigger Wins
Another way we've utilized the mission patches is to commemorate product launches. In the image above you'll see launch patches for two of our products, FlexePark and Queue Saver. Patches, certificates, plaques, medals, trophies - anything that serves as a reminder of the accomplishment can work. Pick big wins that mean something to your own company or industry and find a way to recognize it.
But take care not to fall into the "employee of the month" or "employee of the year" trap. These types of awards often feel arbitrary or reek of favoritism, and can breed discontent and unhealthy competition instead of helping to unify your team. If one of your salespeople closed a big deal, don't call them "employee of the month" but simply celebrate the specific accomplishment. Also, be sure to share the award with everyone else on the who made it possible, from the intern who brought the prospective client coffee during their site visit to the engineer who helped answer their questions.
Before the pandemic we tried to get our fly our team to get together once a year to celebrate a successful year. We haven't started doing that again, but we can still schedule [optional] team get-togethers online (do these during the work day so you're taking away from company time, not personal time). You can even pay for a meal for everyone to share while you discuss the event you're celebrating.
Whatever you choose, be intentional and make it memorable and rewarding, not annoying. Make it about your team, not you.
More Ideas
A little over 4 years ago I was trying to come up with ideas for how we could celebrate team wins and I put out a question on Twitter.
Advice wanted: what's the best way to celebrate wins as a team when your team is distributed?? IMHO it's proving to be the hardest part. (Note: I can't afford to fly the team to a tropical destination yet)

— Michael Dowden (@mrdowden) May 23, 2018
Here are some of the suggestions I received:
Manager sends a public message to the team saying "X person deserves recognition for Y because Z" and then the team would pile on with congratulations. The manager can follow up privately with a gift card directly to the person.
For wins tied to revenue or profit metrics, consider a modest bonus
Frequent small celebrations. Little kudos on Slack, positive feedback in 1:1s, etc. Be consistent.
If you can afford it, do team retreats and bonuses as rewards. Set aside money to be able to do this.
Share recipes and eat a homemade dish together in a videoconference.
Send company swag, cakes/deserts from a local baker, gift cards to local businesses (local to the employee). An extra afternoon off would also be great.
You can design and print stickets for major releases and distribute to the team.
Send handwritten thank-you cards with a small thoughtful gift and a [Visa] gift card.
Video game (or other team activity) party
Send the employee (and a +1 or their family) to dinner
Establish a "team fund" to help cover celebrations and allow you to pay for more interesting benefits.
Ship a thoughtful, personalized gift to their house
Some other companies have written their own ideas as well:
Summary
Whatever you choose, be sure to make an effort to celebrate wins with your teams. And follow the critical steps:
Be intentional - start small and immediately, and be sure you're pointing out wins for others that they're not telling about themselves
Be consistent - make a habit out of celebrating wins and celebrate them all the same way every time
Be inclusive - don't leave people out and make sure your celebrations bring the team together instead of pulling them apart
Do you have more ideas on celebrating wins as a team? Let me know - I would love to hear your thoughts.