Touchless Parking Expands in Broad Ripple FlexePark opens its newest shared parking lot at Broad Ripple UMC
Published

June 2020

Word Count

290 words

Reading Time

2 min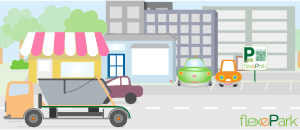 FlexePark, an Indianapolis-based shared parking web app, has opened its newest lot in Broad Ripple, offering zero-contact parking options around Indianapolis and Bloomington.
Located at Broad Ripple United Methodist Church at 6185 Guilford Ave., the lot has 40 parking spaces for $4 from 8 p.m.-3 a.m. FlexePark has four additional locally-partnered lots within a few blocks of this location.
To park, drivers scan a QR code found on a FlexePark sign and securely pay a flat parking fee from their mobile device. For those looking for minimal personal contact, FlexePark offers a safer solution than touching parking meters or exchanging payment with lot attendants.
FlexePark was developed by Andromeda Galactic Solutions to address the lack of public parking options in metro areas. Through FlexePark, local businesses — many of which are emerging from a closed economy — generate extra income by making their unused parking available to the community, usually after business hours.
FlexePark and its patent-pending technology has been recognized as a finalist for the 2020 & 2019 Parking Today Awards, 2020 & 2019 TechPoint Mira Awards, and 2019 Leading City AcceliCITY Awards.
---
About FlexePark FlexePark is a user-friendly solution to the dilemma of struggling to find parking options while many potential spaces are kept unavailable. Unlike other shared parking options, FlexePark focuses on usability and accessibility without requiring users to download an app or reserve parking spots in advance. Learn more at false.
About Andromeda Galactic Solutions Founded in 2015, Andromeda was created to address community issues through a unique combination of technology and services, believing that sustainable companies should generate net social gain with every product and service offered. Its philanthropic investments include participating in Extra Life and Eleven Fifty Academy. Visit false for more information.