Local Startup Expands Talent
Published

June 2019

Word Count

235 words

Reading Time

2 min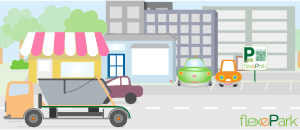 FlexePark, a web-based parking service that creates public spaces from private lots, announces the hire of Patrick O'Donnell as acting vice president of sales. O'Donnell has more than 20 years of experience in building and coaching strong sales teams.
"From the very beginning, FlexePark has grown through the sales and outreach of its founders," said FlexePark co-founder Michael Dowden. "Last December we added a marketing team to better reach our audience. Today I am very excited to be working with an experienced sales leader that will help us not just reach and serve our community, but also build our team."
FlexePark was developed as a solution to the lack of public parking options in metro areas. Through FlexePark, local businesses generate extra income by making their unused parking available to the community, usually after business hours. Drivers simply scan the QR code on a FlexePark space sign to securely pay the flat parking fee.
This patent-pending technology has been recognized as a finalist for the 2019 Parking Today Awards, a nominee for the 2019 TechPoint Mira Awards, and a 2019 AcceliCITY Smart Cities semi-finalist.
---
About FlexePark FlexePark is user-friendly solution to the dilemma of struggling to find parking options while many potential spaces are kept unavailable. Unlike other shared parking options, FlexePark focuses on usability and accessibility without requiring users to download an app or reserve parking spots in advance. Learn more at flexepark.com/start.